OVERCOMING ODDS:


After some of their equipment was damaged and their team leader injured, the team still managed to pull together to win the 56-hour event

A team from National Tsing Hua University (NTHU) outperformed nine groups to finish first at the Student Cluster Competition in Dallas, Texas, this month.

Led by NTHU computer science professor Jerry Chou (周志遠), the team included Mau Chan-yu (牟展佑), Ting Hsu-tzu (丁緒慈), Kuo Pin-yi (郭品毅), Chang Fu-chiang (張富強), Huang En-min (黃恩敏) and Wu Pang-ning (吳邦寧), who stood out among six teams from the US, and three from Germany, Singapore and Switzerland, NTHU and the National Applied Research Laboratories (NARLabs) said in a statement last week.

From Nov. 14 to Nov. 16 at Bailey Hutchinson Convention Center, students competed for 56 hours. The teams had eight hours to create a high-performance computing (HPC) solution using no more than 3,000 watts, and then had 48 hours to use the system to solve four application questions.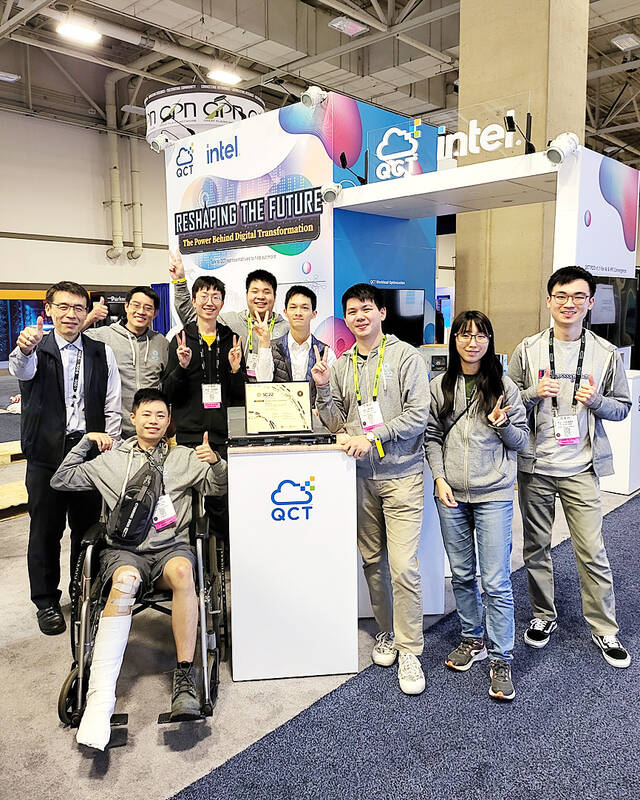 Photo courtesy of National Tsing Hua University
After NTHU team leader Mau was injured in a traffic accident that almost forced him out of the competition, some of the team's computer equipment was damaged on the way to the convention center, forcing them to rearrange their cluster and adjust their strategy, Chou said.
However, the drastic changes did not stop the team from shining, he said.
Chou said he was grateful to NARLabs for its support, student coach Kerwin Tsai (蔡闊光) from the department of computer science's graduate program for training the team and Quanta Cloud Technology Inc for its sponsorship.
The annual competition was first held in 2007 to "provide an immersive high-performance computing experience to undergraduate and high-school students," its Web site says.
"With sponsorship from hardware and software vendor partners, student teams design and build small clusters, learn scientific applications, apply optimization techniques for their chosen architectures and compete in a nonstop, 48-hour challenge at the SC [Super Computing] conference to complete real-world scientific workloads, showing off their HPC knowledge for conference attendees and judges," it added.
In addition to winning this year's competition, the Web site shows that NTHU teams won in Seattle, Washington, in 2010 and New Orleans, Louisiana, in 2011.
Chang Chau-lyan (張朝亮), director-general of NARLabs' National Center for High-performance Computing, called the students' success the fruition of Taiwan's long-term academic investment in HPC.
NARLabs said it would continue to provide students with training and support to familiarize them with clusters, to boost Taiwan's HPC talent.
Comments will be moderated. Keep comments relevant to the article. Remarks containing abusive and obscene language, personal attacks of any kind or promotion will be removed and the user banned. Final decision will be at the discretion of the Taipei Times.