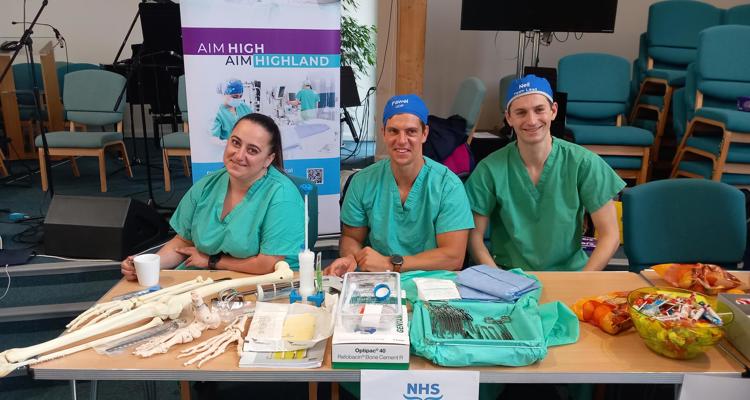 Health and social care workers from NHS Highland attended Inspiring Young Minds events in Inverness throughout November as a way to engage with young people and showcase the different job opportunities and education pathways available within NHS Highland.
The Inspiring Young Minds events, created by Developing the Young Workforce (DYW) Inverness & Central Highland, in collaboration with UHI Inverness and Skills Development Scotland, gave S2-S4 Inverness school pupils the opportunity to engage with NHS Highland workers and other employers to help them make informed decisions about their future careers.
NHS Highland had stalls from a range of professions including Healthcare Science, Medical, Nursing, Dental, Midwifery, Pharmacy, and Adult Social Care.
At these stalls, the teams carried out interactive "hands-on" activities with young people to provide experience and educate them on different services and job roles. The activities included Basic Life Support, Clinical Skills demonstrations, Birthing activities, Mental Health Awareness, Dementia awareness with insights into the challenges posed for Older adults and much more.
Lori Pattinson, Workforce Planning Manager for NHS Highland, said: "We were so excited for our employees to have the chance to meet and engage with young people in order to inspire and inform them about future career opportunities in health and social care within NHS Highland. We hope we've been able to encourage these young people to pursue a career in health or social care, and become a part of our future workforce!"
Across the three events in November, held at Inverness Royal Academy, Culloden Balloch Baptist Church, and Millburn Academy, roughly 1500 young people got to experience interacting with local employers and key sectors most important to the Highland economy, including Construction, Engineering, Hospitality, Retail and STEM, as well as Health and Social Care.
NHS Highland staff also attended a further event held for West Highland in Plockton on the 8th December 2022.