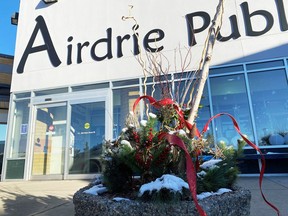 Article content
There's no shortage of things to do at the Airdrie Public Library (APL) throughout the fall, with a wide variety of programs and events being offered for all ages. 
Article content
With a list of programs and activities being offered throught each day of the week, there's lots of opportunities for all types of things to do at the Library in coming months. 
A fan favourite, Mighty Machines is returning in-person after being online for the past two years, being hosted in the Library parking lot on September 18. 
Programming and Customer Engagement manager Eric Pottie said it will be a hands-on learning opportunity for kids to get up close and personal with big vehicles that do big jobs. 
"Kids will have the chance to get in the vehicles and ask questions to the people who work with them," said Pottie. 
"They can see what it's like to be behind the wheel of a bus, ambulance, fire truck, or what it's like to go up in a cherry picker," he said. 
Article content
There's also an open mic night for the Poetry in Motion contest, which happened in June, being held from 6 p.m. to 8 p.m., also on September 18. 
Winners hadn't been announced at the time of this article being printed, but Potty said anybody and everybody are welcome to share their poetry as a celebration of this year's contest. 
"All of the winners and shortlisted people have been invited to come and share their poems, and if people… have their own poems they would like to share, they are also welcome to come to the Library that night," he said. 
The Voice and Vision Gala is happening on September 24, showcasing art and literature from local creators who were paired together and came up with works inspired by each other. 
"The art pieces and writings are going up in the library (this) week, and we're going to have a night where the writers and authors are going to talk about and share their work," said Pottie. 
Article content
As well, the library is introducing some new programs and events. Partnering with Welcoming Airdrie, a Newcomers Fair is being introduced on Saturday, Oct. 15. 
"Whether people are new to Canada, Alberta, or just to Airdrie, organizations will have the chance to set up tables and people who are looking for resources can come in and ask questions," said Pottie. 
"They can learn more about the services and resources that are available to newcomers," he said. 
The Calgary Ghostbusters are also paying a visit on October 29, just in time for Halloween, with various activities planned for young children and teenagers. 
"There are spots for pre-school kids, there's some later-afternoon stuff for school-aged kids, and then later in the evening they'll be doing stuff for teens," said Pottie. 
Article content
"They're going to be doing some Halloween activities like making slime or a scavenger hunt." 
There's a list of programs offered at the Library throughout just about every day of the week of the fall, from things for pre-school aged children to seniors.  
There are plenty of opportunities for learning activities, book clubs, writing clubs, chess clubs, and knitting starting in September, and folks can take a look at the schedule at airdriepubliclibrary.ca to see if anything interests them. 
All of the Library's events and programs are free, as well as library cards for anybody who wishes to get one.